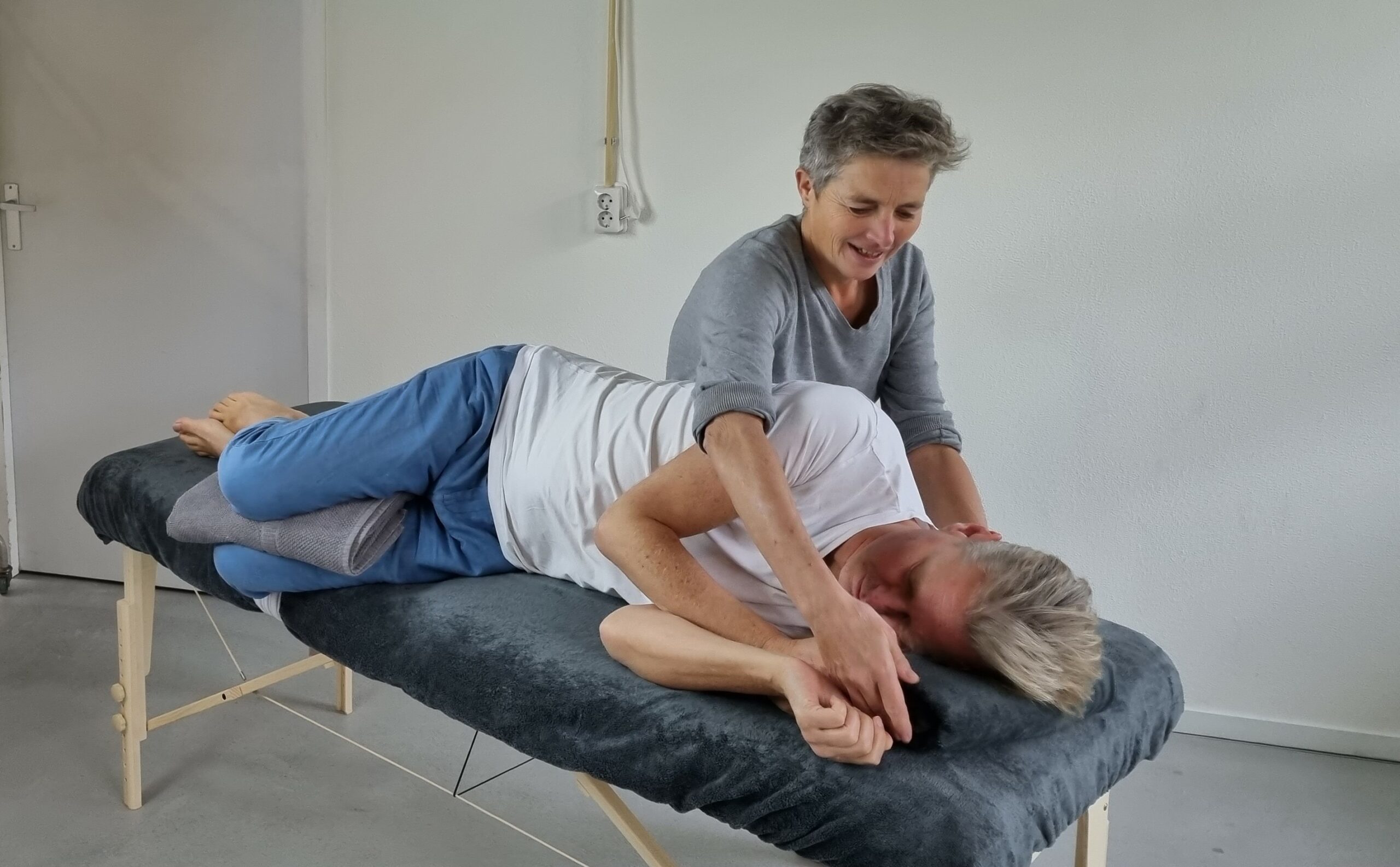 Cursus fascia stretching
3D fascia stretching richt zich op het aaneengesloten dynamische bindweefselwerk dat alle systemen en organen van het lichaam bedekt, doordringt en verbindt. De unieke stretches geven ruimte aan de spieren…
| | |
| --- | --- |
| Kosten | |
| Cursusdata | Zaterdag 11, zondag 12, maandag 13 november en zaterdag 25, zondag 26 en maandag 27 november 2023 - Amsterdam |
| Docent(en) | Mireille Leeflang |
| Certificaat | Ja (digitaal) |
| Accreditaties | KTNO |
3D-fascia stretching is een levendige serie grepen, uitgevoerd op een massagetafel. De liggende klant heeft een ontspannen maar actieve rol in deze behandeling.
Na de cursus fascia stretching
beheers je de volledige serie 3D-fasciastretches. Deze helpt je klanten om zich bruisend en ontspannen te voelen, en een gevoel van eenheid  te ervaren, zowel lichamelijk als geestelijk
kun je, met behulp van unieke stretches het gewrichtskapsel hydrateren waardoor de beweeglijkheid (Range Of Motion) vergroot
kun je je klanten met doeltreffende aanwijzingen gidsen in hun actieve aandeel in de stretches
ben je een versterkende factor voor sporters (amateur of prof) in het halen van hun doelen
ben je in staat gelegenheid te bieden aan je klanten om nieuwe wegen te ontdekken naast oude patronen
3D fascia stretching
richt zich op het aaneengesloten dynamische bindweefselwerk dat alle systemen en organen van het lichaam bedekt, doordringt en verbindt. De unieke stretches geven ruimte aan de spieren en de fascia waar ze in 'verpakt' zijn. En bovenal: ze werken op de fascia rond de gewrichten, het gewrichtskapsel. In de loop van een mensenleven verliest dit kapsel zijn elasticiteit, met stijfheid en pijn als gevolg. Met deze serie stretches heb je fantastisch gereedschap in handen om het lichaam van je klant zijn ruimte en veerkracht terug te geven.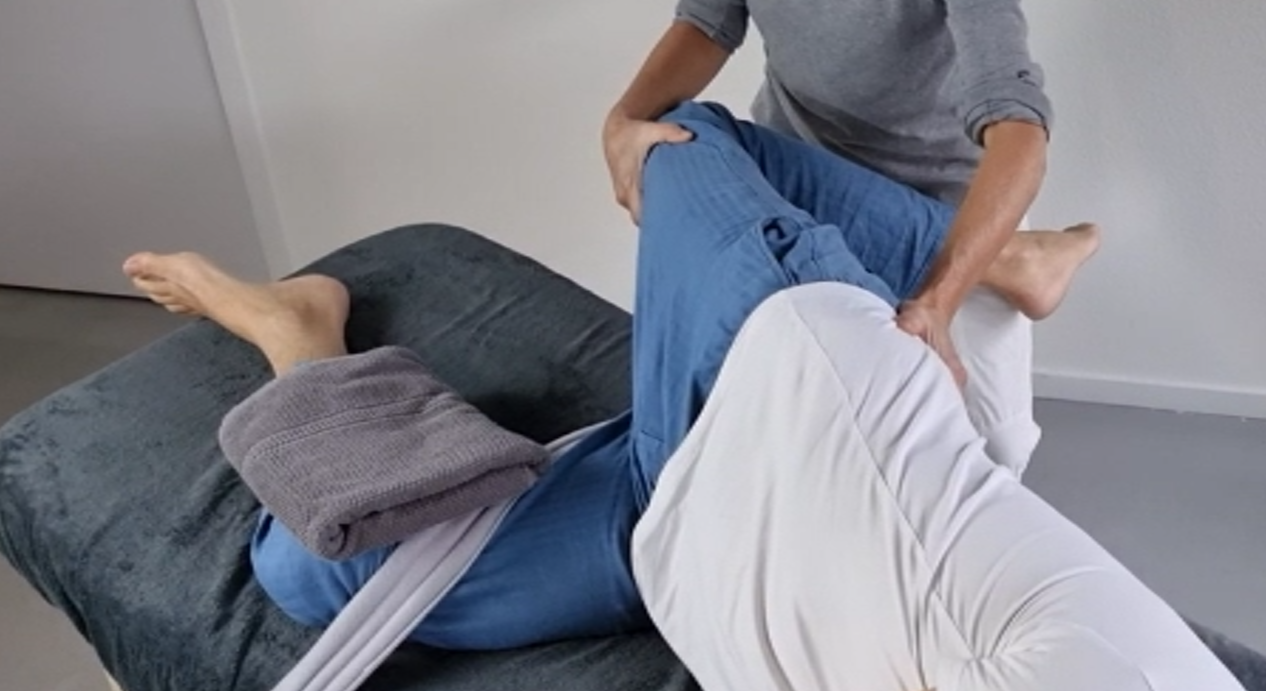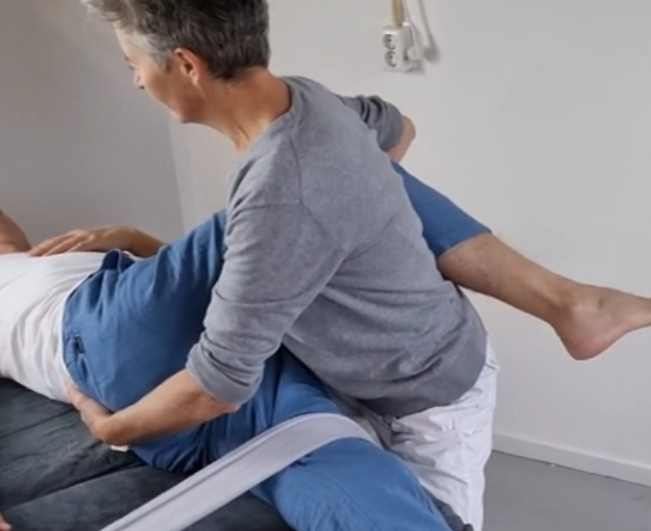 Wat leer je op de cursus fascia stretching?
Je leert over verschillende manieren van stretchen en de effecten.
Je leert over de indicaties en contra-indicaties van de stretches
Je leert een dynamische anamnese te stellen
Je leert de theorie van de 3D-fascia stretches, en leert deze in een complete serie op onder- en bovenlichaam in te zetten.
je leert welke tegenbeweging je per stretch van je klant nodig hebt om de 3D-stretches snel en overtuigend nieuwe ruimte te laten geven
je leert effectieve zelf-stretches om aan je klanten mee te geven, ter ondersteuning van je tafelwerk.
Voor wie is de cursus 3D-fascia stretching?
Deze cursus is een ideale aanvulling voor:
Masseurs, sportmasseurs, sportverzorgers, fasciatherapeuten, massagetherapeuten, fysiotherapeuten, yoga-docenten, Pilates-trainers, personal trainers.
Fascia stretching is een ideale behandelwijze voor:
Mensen die op zoek zijn naar ontspanning, connectie en levendigheid in het lichaam
(top)sporters
Mensen die last hebben van de gevolgen van een zitten beroep
Mensen die 'niet lekker in hun/haar/het vel zitten'
Mensen die 'te los' in elkaar zitten
Mensen die 'te strak' in elkaar zitten
Mensen die op zoek zijn naar ontspanning, connectie en levendigheid in het lichaam
(hydratatie van het fascia-netwerk)
Fasciastretching is niet geschikt voor:
Klanten met protheses (kunstheup, kunstknie, etc.)
Klanten met extreem overgewicht
Over de docent
Mireille was gedurende acht jaar docent aan de Akademie en gaf les in anatomie, palpatie, massage, bewegingstechnieken en 3D Stretching. Meer over haar vindt je op www.leeflangengelukkig.nl
Akademie is een onderdeel van Esoterra. De administratie wordt verwerkt door Esoterra. Bij een bestelling word je doorverwezen naar het betalingsportaal van Esoterra.