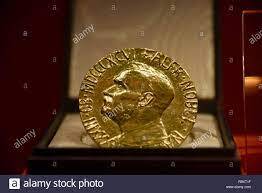 Nobelprijs voor massagetherapie
In 2021 wonnen David Julius (1955) en Ardem Patapoutian (1967) de Nobelprijs voor Fysiologie of Geneeskunde 2021. De Nobelprijs voor massagetherapie bestaat natuurlijk (nog) niet.
Maar het onderzoek waarmee ze deze prijs wonnen heeft wel heel veel te maken met het werk wat masseurs en massagetherapeuten uitvoeren.
"Volgens het Nobelprijscomité hebben zij 'één van de geheimen van de natuur ontrafeld', doordat nu op moleculair niveau bekend is hoe mensen warmte, kou, pijn en aanraking kunnen voelen. En hoe deze prikkels worden omgezet in een elektrisch signaal naar de hersenen, aldus Medisch Contact.

Capsaïcine
Julius ontdekte een ionkanaal (TRPV!) in de vorm van een donut. Het gat (midden in de donut) kan openen naar gelang er meer of minder warmte wordt ervaren. Er komen dan ionen de cel in die vervolgens een signaal sturen naar het ruggenmerg.
De warmtesensor is ontdekt door middel van capsaïcine, het stofje wat in peper zit en het zo heet maakt. Jaren geleden mocht ik een demonstratie geven voor Nivea die een moderne variant op de tijgerbalsam had ontwikkelt met capsaïcine. Hiermee wordt de huid heet of eigenlijk als heet ervaren. Daar leerde ik als jonge 'wetenschapper' dat je met handen wassen heel snel stukjes hand vergeet; mijn ogen brandden uit m'n kassen.

Aanraking
Patapoutian ontdekte de druksensoren, Piezo 1 en 2 genoemd (Piezo is Grieks voor druk). Hij ontdekte dat als de zenuwcellijn wordt aangeraakt, deze een elektrisch signaal afgeeft net als de warmtesensor.
Hier komt de wetenschap dus direct onze dagelijkse ervaring binnen want door deze structuren voelen we dus druk en warmte en zie je eigenlijk al op celniveau hoe de mens reageert op een massage. Vanuit het holistische uitgangspunt 'zo in het groot, zo in het klein' is het opmerkelijk te zien dat de celstructuren bij warmte openen en bij koude sluiten. Net zoals de hele mens zich bij warmte opent en bij kou sluit. En qua beleving maakt het dan voor de mens niet uit of dat fysieke of gevoelswarmte is.

Pijn als signaal
"Deze ontdekkingen dragen bij aan de ontwikkelingen op het gebied van pijnbehandeling." Met de kennis kunnen nieuwe behandelmethodes ontwikkeld worden. "Het zijn uiterst belangrijke en grondige ontdekkingen", aldus Thomas Perlman van het Nobelprijs-comité.
Mooi onderzoek dus en direct vertaalbaar naar onze massagetafels. De geneeskunde gaat verder onderzoeken of hiermee ontstekingen kunnen worden onderdrukt; lees de ervaringen van ontstekingen. Men wilde kijken of je de warmte van een ontsteking kunt onderdrukken, maar de proefpersonen kregen allemaal koorts omdat het lijf geen temperatuur meer kon houden. Maar eens te meer bleek dat als je de signalen van een klacht weghaalt, de klacht zelf niet verdwijnt.
Daar kan de geneeskunde weer een hoop leren van massagetherapie. Dus over enkele jaren: De Nobelprijs voor massagetherapie gaat naar…….!!
Link naar de toelichting van de Nobelprijs.