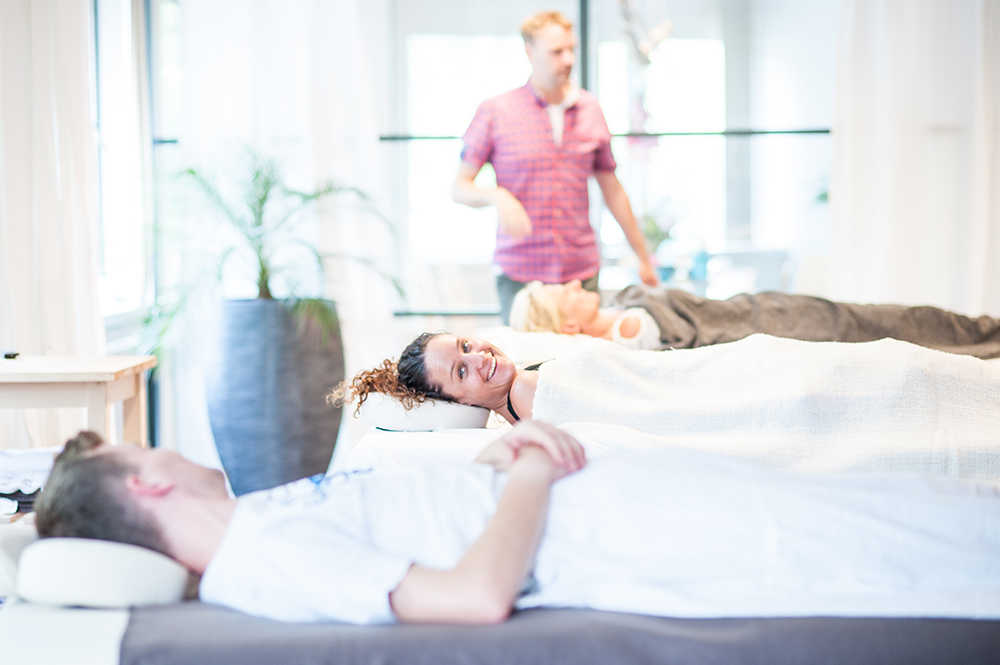 Ademwerk en massage; een bijzondere combinatie
Ademwerk of is het geen werk?
Ademwerk klinkt als een zware bezigheid. Wie de term heeft bedacht? Het zal wel uit de jaren '80 komen en ach je hebt ook lichaamswerk dus waar zeur ik over. Toch is ademwerk soms een hele klus. Onze ademhaling wordt namelijk bijzonder indringend gevormd door wat we in ons leven meemaken. Sommige dingen ontnemen ons de adem. En vaak komt die adem niet meer als zichzelf terug. Ademwerk aan de winkel dus.
Elk leven begint met een inademing en eindigt met een uitademing. Als we sterven blazen we onze laatste adem uit, en als we geboren worden en we ademen niet snel genoeg in, krijgen we een klap voor onze billen. Ademen is zo basaal verbonden met het leven dat de ademhaling veel over iemand zegt. Adem je diep of zit je ademhaling hoog? En in welke situaties verandert dit? Krijg je bijvoorbeeld nog wat adem binnen als je voor 1000 man met een microfoon voor je neus staat, of als je examen hebt?
Ik heb heel veel mensen gemasseerd waarbij het echt een klus was om enige ademhaling in het lichaam te zien; zo oppervlakkig dat er niets beweegt. En als je dan vraagt om dieper te gaan ademen, halen ze bijna overdreven een paar keer diep adem en vallen daarna weer terug in hun oude patroon.
Adem uit…
Het is interessant ze bewust te maken van hun ademhaling; als je focust op je eigen ademhaling ben je meer in contact met je zelf, je lichaam en het 'nu'. Door te focussen op de ademhaling van de cliënt en exact dat ritme te gebruiken krijgt je aanraking een enorme diepgang.Het resultaat is een verademing. Een diepe rust ontstaat als je zo dicht met je bewustzijn bij je ademhaling komt. Je hele lichaam ervaart de vloeiende beweging van je ademhaling.
Elk leven begint met een inademing en eindigt met een uitademing.
Hoe meer ik met lichaam- en ademwerk bezig ben, hoe meer ik me realiseer dat elke ademcyclus een weergave is van actie en ontspanning, het para- en het ortho-sympatische. Om in te ademen heb je inspanning nodig. Je longen moeten uitdijen, je diafragma gaat naar beneden en je organen worden iets weggedrukt. Velen van ons gebruiken bij een inademing nog extra zogenaamde hulpademhalingsspieren.
De uitademing gaat, bij een goede gezondheid, zonder enige inspanning; alles flubbert ineen als een leeglopende ballon. Die continue beweging van de ademhaling zorgt dus voor een onbewust herhalende actie en ontspanning.
Ademloos
Ademen doen we zonder erbij na te denken. Jaar in en jaar uit. Toch kan het heel bijzonder zijn om af en toe heel bewust op je ademhaling te concentreren. Dan kan een simpel iets als een inademing voelen als het drinken van een heerlijke champagne. Dan kun je ervaren hoe ontzettend prettig het is om te kunnen ademen. Jaar in en jaar uit.
Ik neem even een adempauze en ga genieten van de zomer en mijn ademhaling. Ik neem vrij van Ademwerk en ga een boekje lezen… over ademwerk.