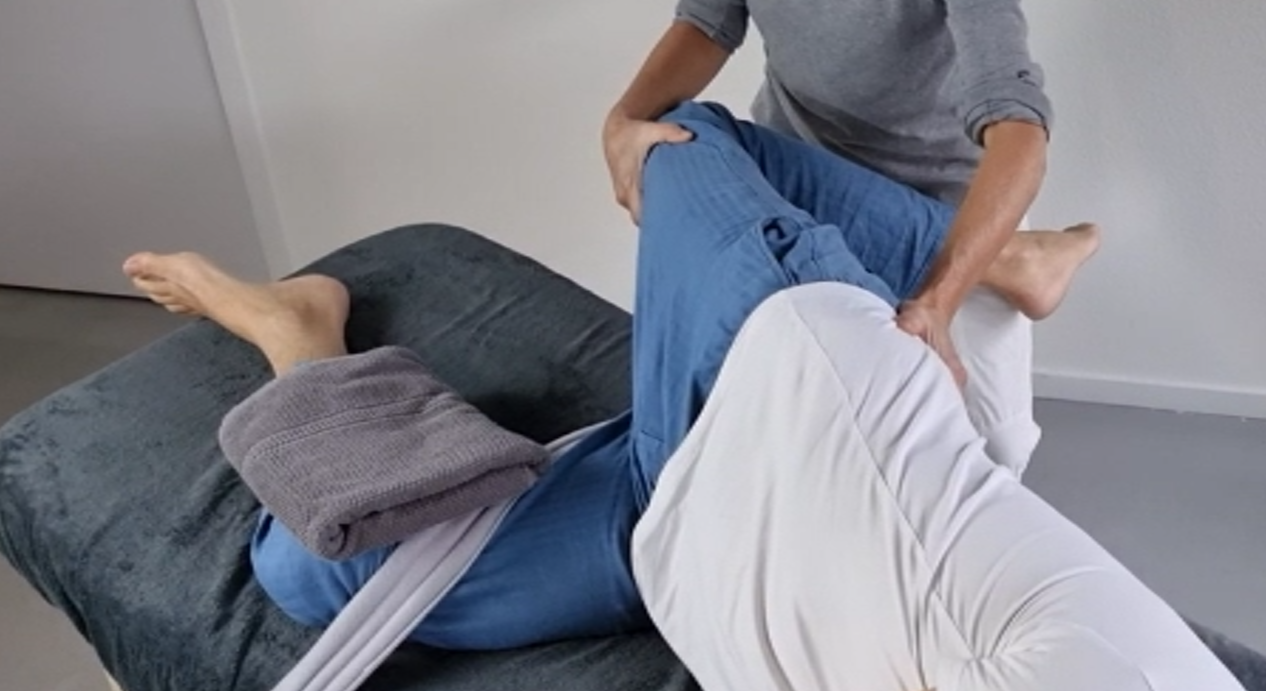 3D Fascia Stretching
Al enkele jaren is er een zeer succesvolle fasciagerichte methode; fascia stretching. Nu is deze aanpak eindelijk ook in Nederland te leren. In de Cursus 3D Fascia Stretching leert ervaren lichaamswerker en -docent Mireille Leeflang je een effectieve basis van fascia stretching.
Fascia strekkingen?
Fascia is een complex netwerk van bindweefsel wat alles in lichaam met elkaar verbindt. Dit maakt het ook essentieel voor elke lichaamswerker. Wil je meer weten over fascia? Luister hier naar de Esoterra podcast interview met Robert Schleip of bekijk hier een video van de ontwikkelaars van fascia stretching. Het strekken van de fascia is een hele andere discipline dan strekkingen van spieren en het effect van de fasciale strekkingen is ook vele malen groter. Juist omdat het een netwerk is waarbij alles met elkaar verbonden is. In deze cursus leer je de werking van fasciale strekkingen, het effect, een juiste annamnese (inclusief contra-indicaties) en een juiste uitvoering van de strekkingen. Hiermee heb je een aanvullende behandelwijze geleerd die voor veel cliënten een grote toegevoegde waarde kan zijn. De Range of Motion (ROM) bepaalt voor veel mensen hun gevoel van vitaliteit en is voor sporters een belangrijke factor in de ervaring van hun sport (amateurs) en/of het effect van hun prestaties.
Fascia en Range of Motion
Fascia is een netwerk in je lijf ook wel je zachte skelet genoemd, wat je hele lijf voedt, informeert en verbindt. Maar net als een te strak pak kan het je bewegingsruimte beïnvloeden.
Door de fascia op te rekken creëer je direct meer ruimte in het lijf. En de perceptie (gevoelservaring) van het lijf.

Voor wie?
Fascia stretching wordt veel gebruikt in de sport. Als voorbereiding of warming up, als cooling down maar ook als integraal onderdeel van de fysieke optimalisering van de (top)sporter. Voor vrijwel elke sport is een soepel en flexibel lichaam essentieel. Denk maar een golfer die afslaat, een basketballer of een voetballer.
Leef vitaal en mét je hele lijf!
Naast deze groep is er een groeiende behoefte aan rekken en strekken bij andere doelgroepen. Denk hierbij aan ouderen die flexibel en mobiel willen blijven. Mensen die langdurig zittend werk doen. Je kunt de rekoefeningen integreren in je massage maar je kunt ook een lossen reksessie aanbieden. In Amerika zijn er talloze 'rekwinkels' waar je gerekt kunt worden. Bekijk deze video van Stretchlab.
Wil je meer lezen of horen over fascia? Lees hier de blog 'wat is fascia?' of luister hier de podcast met onze andere fascia expert, Menno Dam. Tot slot kun je het fascia webinar met Mathilde Vlotman terugkijken. Menno en Mathilde geven samen de opleiding fascia therapeut.