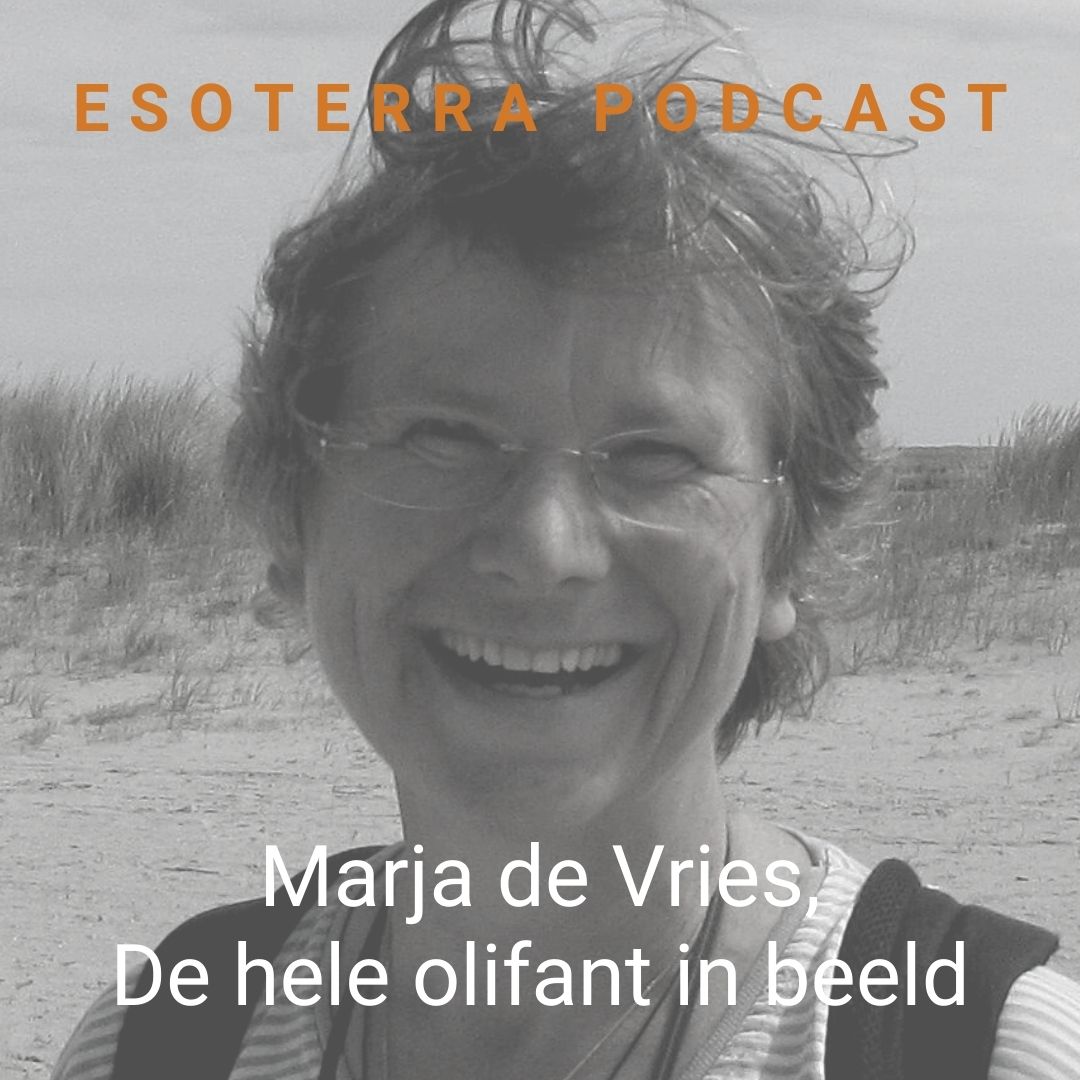 Marja de Vries, de hele olifant in beeld
Over Marja de Vries
Marja de Vries (1954) studeerde biologie en ecologie en werkte ruim 10 jaar als textielkunstenares. Op zoek naar inzicht in hoe wij als mensen in harmonie met de natuur kunnen leven, bezocht ze verschillende inheemse culturen. Ze heeft gekozen voor een intensieve persoonlijke en spirituele ontwikkeling, onder andere op basis van Noord Amerikaanse inheemse wijsheid. Ze is in staat het grote overzicht te zien en heeft een heldere toekomstvisie. Sinds 2003 richt ze zich op transformatie van leren en onderwijs zo dat het in overeenstemming zal zijn met wie we – en de kinderen – in essentie zijn en op het creëren van een wereld waarin alles en iedereen in harmonie met al het andere kan leven.
De hele olifant in beeld
Als eerste stap in die richting schreef ze het boek De Hele Olifant in Beeld dat in 2007 gepubliceerd werd en waarvan inmiddels zo'n 20.000 exemplaren zijn verkocht. Sinds het verschijnen van dit boek wordt ze regelmatig en door vele uiteenlopende organisaties uitgenodigd voor het geven van presentaties hierover. In 2012 is het boek in het Engels gepubliceerd als The Whole Elephant Revealed en in 2014 in het Duits als Nur der ganze Elefant ist die Wahrheit. In oktober 2014 is haar tweede boek, Samenlevingen in Balans, naar een toekomst in harmonie met de universele wetten verschenen. Dit boek gaat over samenlevingen waarbij inzicht in de universele wetmatigheden een inherent onderdeel is van alle aspecten van de cultuur. Op dit moment werkt ze aan haar derde boek over vormen van organisatie binnen zulke 'Samenlevingen in Balans' in lijn met de universele wetmatigheden. Dit zijn egalitaire vormen van organisatie waarbij het Leven centraal staat.
De podcast
Een enorm boeiend gesprek of eigenlijk meer een lezing maar zeer de moeite waard. Het boek staat ook in mijn top tien van beste boeken die ik dat jaar heb gelezen. Een aanrader dus.
De hele olifant in beeld: een synthese van de gemeenschappelijke inzichten van vele wijsheidstradities én recente baanbrekende wetenschappelijke ontdekkingen!
Marja de Vries biedt met De hele olifant in beeld inzicht in het bestaan en de werking van Universele Wetten en de Gulden Snede. Het boek is een synthese van de gemeenschappelijke inzichten van vele verschillende wijsheidstradities en recente baanbrekende wetenschappelijke ontdekkingen die met deze eeuwenoude inzichten overeenstemmen. De Vries maakt zo in feite een geheel nieuw wereldbeeld zichtbaar. Het wordt mogelijk om te begrijpen wat er nodig is om de balans in zowel onszelf als de wereld te herstellen. Omdat deze wetmatigheden een universeel karakter hebben, zijn ze van toepassing op alle aspecten van ons individuele en maatschappelijke leven. Ze kunnen dan ook gebruikt worden als uitgangspunt bij alle persoonlijke en maatschappelijke vernieuwingen, die tot doel hebben meer in harmonie te zijn met onszelf en met het grotere geheel.
Haar vierde boek zal gaan over 'Leren en Onderwijs in Balans'.